Digital Marketing Trends for 2017
October 10, 2017
Posted by:
Category:

Digital Marketing
The 14 top rated digital marketing techniques for 2017 according to Smart Insights readers
In this article, I'll take an in-depth look at what I see as the most significant trends in digital marketing for the year ahead. But, it's not only my view, since I have 'crowdsourced' the importance of the different trends rated by the popularity of each trend.
For all members of Smart Insights, we also have a more detailed free download of the marketing megatrends for 2017, which are 9 digital marketing and martech megatrends will help give you an edge in 2017. In the download we discuss machine learning and artificial intelligence, which for me is the biggest trend in marketing right now.Machine learning techniques apply across many of the techniques we discuss in this post including Big Data, Marketing Automation, Organic Search and Social media marketing. If you want to know more about the defition of digital marketing before starting on trends, see our post on What is Digital Marketing?
To get our readers' views on the most important trends at a top-level, we asked Smart Insights readers to give their opinion on the most important trends. We asked:
"Select one marketing activity that you think will give your business the biggest incremental uplift in leads and sales in 2017 (or your clients if you work for an agency or as a consultant)".
We're repeating the question this year to see how the 2018 trends differ, adding AI and machine learning, please click to vote on the best marketing technique for 2018!
Thanks if you shared your opinion, we had 2,352 responses from marketers around the world! Here are the results for 2017: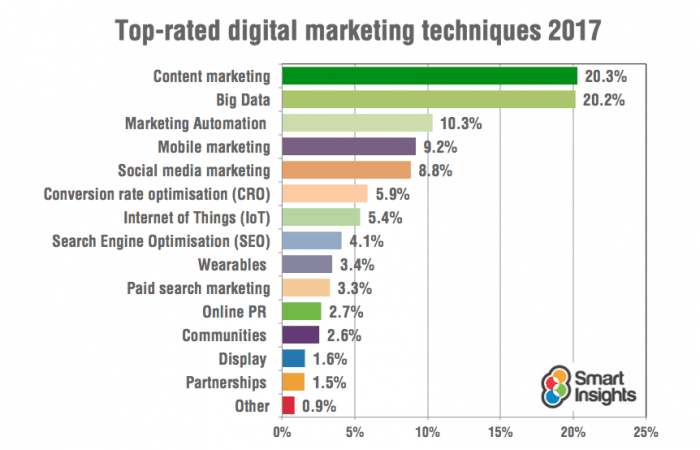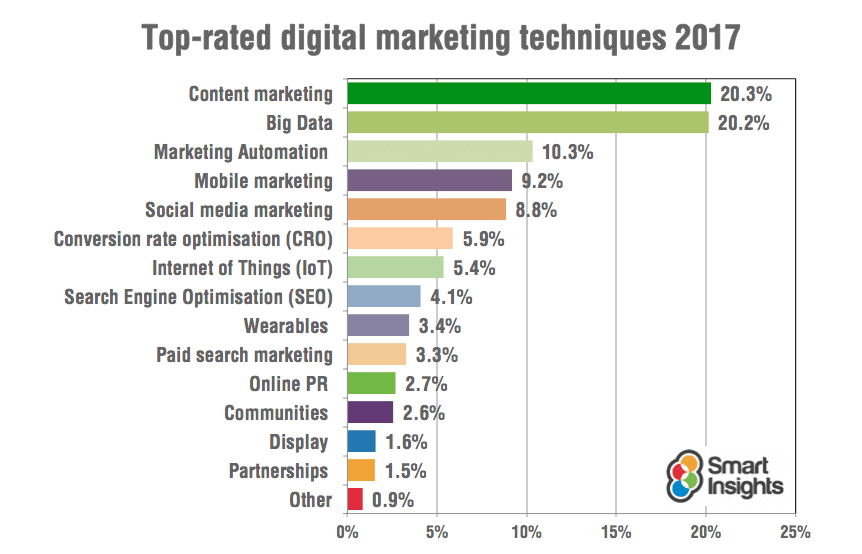 While this doesn't have a controlled sample of our free research reports like Managing Digital Marketing, it does canvas opinion widely. Note that these trends aren't necessarily the most important channel by volume of leads or sales, rather it is the tactic which will give the biggest increase in the year ahead, so it shows what is becoming more important. By asking for just one tactic, this helps shows the the top 3, 5 or 10 top-level trends.
To help the decision on which technique to choose, we expanded upon the short labels you see in the graph to help scope the response more carefully. For example, 'Big Data' is a nebulous term, but when we expanded the definition to include insight and predictive analytics, it shows the value of the specific marketing techniques for Big Data and this help explains why this is in position number two.  Here is the full listing of digital marketing techniques:
Big Data (including market and customer insight and predictive analytics)
Content marketing Communities (Branded niche or vertical communities)
Conversion rate optimisation (CRO) / improving website experiences
Display (Banners on publishers, ad networks social media including retargeting and programmatic)
Internet of Things (IoT) marketing applications
Marketing Automation (incl CRM, behavioural Email marketing and web personalisation)
Mobile marketing (Mobile advertising, site development and apps)
Paid search marketing, e.g. Google AdWords Pay Per Click
Online PR (including influencer outreach)
Partnerships including affiliate and co-marketing
Search Engine Optimisation (SEO or organic search)
Social media marketing including Social CRM and Social Customer Care
Wearables (e.g. Apple Watch, activity trackers, augmented reality)
In our Digital Channel Essentials Toolkits within our members' area and our Digital Marketing Skills report we simplify digital marketing down to just 8 key techniques which are essential for businesses to manage today AND for individual marketers to develop skills. This visual shows the core techniques which will drive more leads and sales for you, but within some sectors, techniques like using AI, IoT, Wearables will be more important.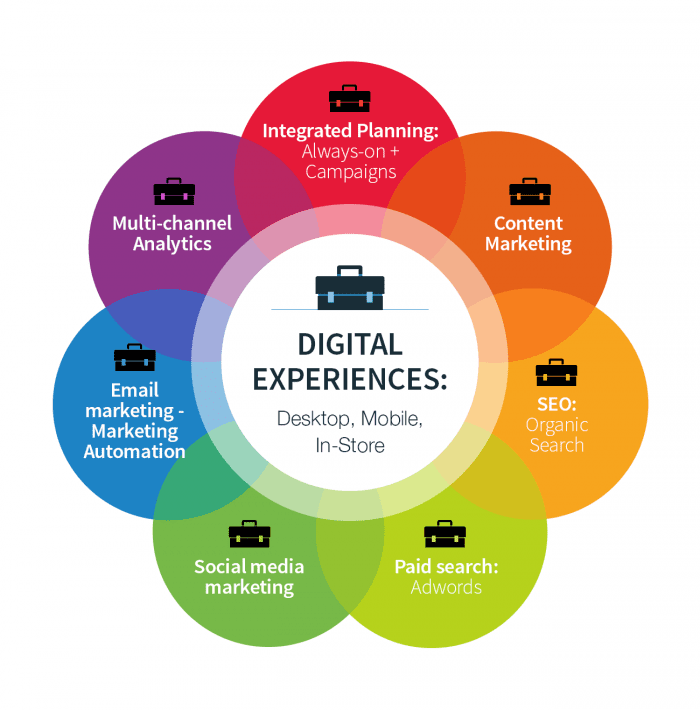 The Top 14 marketing techniques in 2017?
Let's now drill down into the key tactics and marketing technology within each of these tactics which will be important in 2017.
1. Content marketing trends
Content marketing has been in the top 3 for the last 3 years we have run this post, so we focus a lot on how to create an integrated content marketing strategy through advice in our content marketing toolkit.
Our research with HubSpot, illustrated in the Competing on Content infographic, shows that more businesses are now using a strategic approach (40%), so this is a trend we can expect to see continuing in 2017. We can also expect that there will be more focus on Measuring Content Marketing ROI as the cost and competition within content marketing increases.
At a practical level, Martech Guru Scott Brinker has talked about the 4th Wave of Content Marketing and I'm seeing more and more examples of interactive marketing apps – like our capability graders and also personalisation tools recommending content. Read his article, introducing it, a great read and you can check out the ionInteractive examples of interactive content marketing.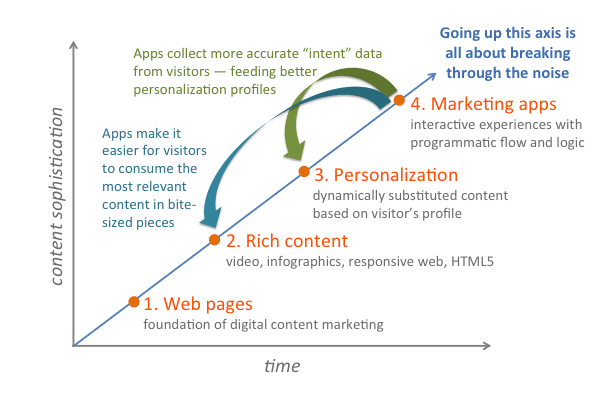 2. Big Data
As defined in our question, Big Data marketing applications include market and customer insight and predictive analytics.
The 3Vs of Big Data show why this is a key trend selected by many, who have experienced the increase in volume, real-time data and data formats in their business and want to exploit the value to increase sales through personalisation on websites and through email marketing through predictive analytics – a topic we have covered many times on our blog.  It's also closely tied into machine learning where Big Data is mined to identify propensity to convert given different customer characteristics and behaviour.
3. Marketing Automation (including CRM, behavioural email marketing and web personalisation)
Like content marketing, marketing automation has been in the top 3 for the last 5 years we have asked this question. Many businesses still have potential for improving their automation as our research on the State of Marketing Automation shows.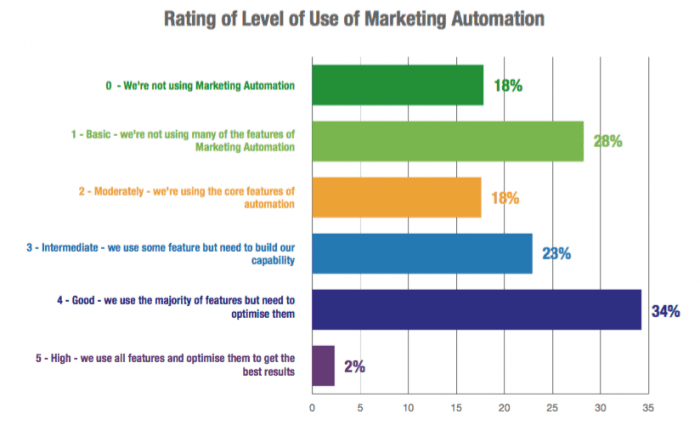 To help with this knowledge gap, I think I have given more webinars and talks on Marketing Automation than on any other topic in 2016. The most common questions at the end are 'where do we start' and 'how do we get to the next level'. These questions are answered in our Email marketing and marketing automation toolkit which includes a free interactive capability review to score your use of email marketing automation. As businesses progress up the learning curve I expect more businesses to be putting lead scoring in place, or refining it and learning the best places on the journey to feature content through predictive analytics.
4. Mobile marketing (Mobile advertising, site development and apps)
Mobile was in the top 3 three years ago, but as more companies have adopted mobile responsive web design and email templates they have seen less need to focus on it, or at least there are fewer opportunities for growth.
However, research shows that retail conversion rates are significantly lower on smartphone, so there is work to be done for many businesses to optimise conversion on mobile, although they will likely always stay lower than desktop.
Mobile also has a large impact on search marketing as Google vigorously follows its mobile first mantra. To me, it's a somewhat misleading mantra, since the reality is that many web users are still using desktop, laptop and tablet devices and there is a danger with mobile responsive designs that conversion on higher resolution screens may fall if mobile optimised. Instead, leading companies are looking at adaptive mobile design approaches which have the benefit of serving more relevant, contextual content and CTAs for users and reducing load times.
'Mobile first' is also misleading if we look at the overall customer journey since often different devices may be involved at different points. So a better vision for mobile strategy is treating it as part of a multiplatform or multichannel strategy. As this data from comScore highlighted in our mobile marketing statistics researchshows, the multiplatform ribbons for all countries are much broader than users who are mobile only or desktop only.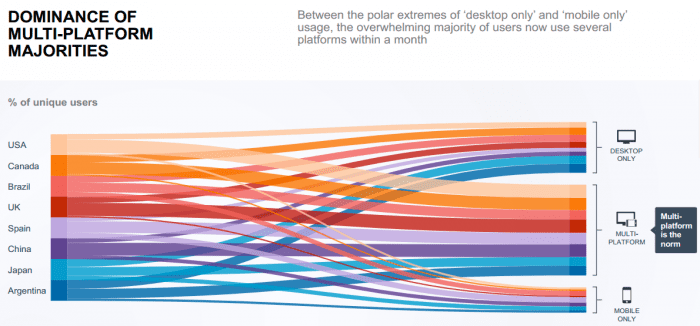 5. Social media marketing including Social CRM and Social Customer Care
When I meet marketers at events and training I find there is still huge interest in social media, thanks to its reach and options to engage audiences and encourage advocacy or 'social media amplification' to give it the full treatment.
Our social media research statistics summary shows continued growth in social media usage overall, but with reduced popularity of some social networks in some countries. For example Twitter and Facebook are in decline or plateauing in many western markets while Snapchat, Instagram and Pinterest are still growing in usage.
Trends in social media marketing are often controlled by the efforts of the social networks to monetise and this has seen Facebook and Instagram, in particular make changes such that businesses now need to 'pay to play' to get the reach needed to have an impact. They have continued to innovate in their targeting and remarketing options. Jason DeMeyers has these interesting views on social media trends for 2017.
6. Conversion rate optimisation (CRO) / improving website experiences
This is the technique I selected a year ago as the way Smart Insights would see the most growth from in the year ahead. It's higher in popularity than previous years, but I still wonder whether many businesses are missing out on a more data-driven approach to increase leads and sales from their websites.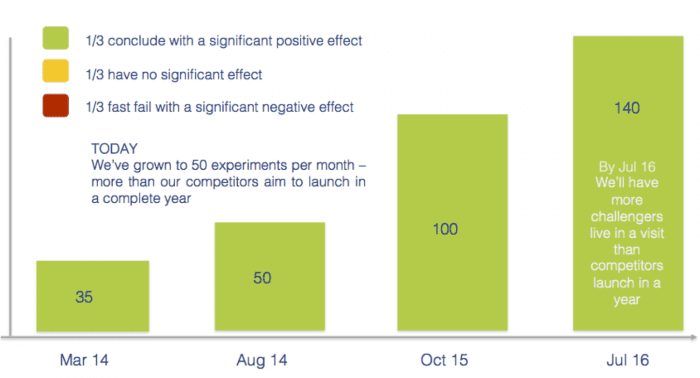 I saw this chart of the volume of structured tests presented by a major multichannel retailer who wanted to scale the number of tests they were running. It a great way to show the need to test extensively since only a third have a positive test. It also shows how competitors may be getting ahead if they are testing more extensively.
7. Internet of Things (IoT) marketing applications
IoT is one of the most important marketing technology applications of the last 2-3 years, but it is of most relevance to devices makers and retailers, so it is relatively high-up in this ranking of priorities.
There are expected to be 75 billion connected devices by 2020, meaning there will be ten times as many devices able to talk to one another as there will be people on the planet! The implications are huge and far ranging. All this sharing of data will transform the way we live our lives.
Our article covering opportunities and examples of marketing applications of the Internet of Things has this useful summary of alternative applications: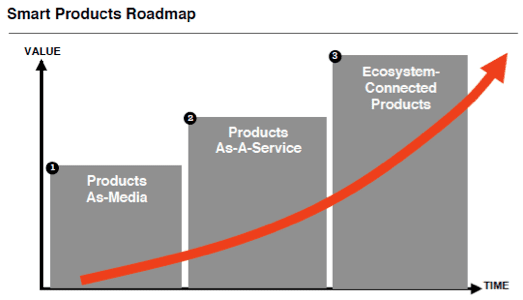 8. Search Engine Optimisation (SEO or organic search)
Mobile marketing SEO techniques will be particularly important in 2017 with Google's recent announcements about the mobile index and AMP. We have seen huge increases in AMP smartphone traffic since September 2016 when Google rolled AMPs out beyond Google News. AMPs are targeted at publishers, but should be considered by businesses with an active blog too in my opinion.
We have been covering these announcements and improvements in our other alert posts:
9. Wearables
Wearables are one of the hottest consumer consumable commodities (e.g. Apple Watch, activity trackers, augmented reality)
10. Paid search marketing
Google AdWords is the most important form of Pay Per Click and here Google has been pursuing their 'Mobile-first' strategy by building out these features.
11. Online PR (including influencer outreach)
Online PR today is inextricably linked with Content marketing, SEO and Social media, or it should be. But this doesn't get a top rating since the others are important.
 12. Communities
These are branded niche or vertical communities.
13. Display advertising
This includes banners on publishers, ad networks social media including retargeting and programmatic.
14. Partnerships including affiliate and co-marketing
A neglected aspect of digital marketing, perhaps unsurprisingly unsexy.
Other trends
This is an interesting category since readers can tell us what we're missing. Suggestions here include:
Account Based Marketing (ABM) – relevant for B2B marketers targeting large accounts we have a new guide in our B2B toolkit on this early in the new year.
Digital OOH (Out-of-home) – A surprising one for the number one technique
Employee advocacy and feedback – interesting to see the internal marketing perspective – again surprising to see as the main growth point
Machine Learning – as mentioned at the top of the article
Omnichannel and multichannel attribution – both good for reminding us that it is the way that these channels work together to support each other that is often most important – the reason why many members are looking for advice on an integrated marketing strategy